Built for the Man that has it all
We know you've worked hard to get what you have. Now is the time to make sure you keep it and that your valuables are right where you intend them to be at all times.
The MAN SAFE by Brown Safe Manufacturing draws on the excellent engineering and craftsmanship gained from building high-security safes and vaults for the public and military for over 30 years, but with one big difference – This highly flexible safe for watches was fashioned from the ground up to accommodate and enrich the multi-faceted needs of the modern man.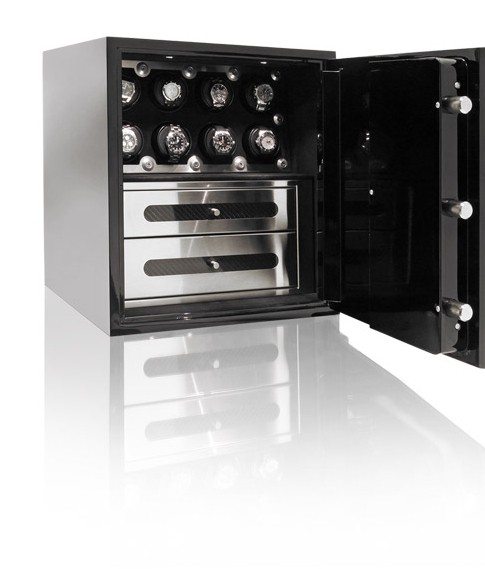 OPTIMIZED FOR YOUR LIFE
The MAN SAFE reinvents what a safe can be, and more importantly, how you can make use of it.
By equipping the safe with cutting-edge features that streamline its use, coupled with the thoughtful inclusion of luxurious materials, the MAN SAFE functions as beautifully as it looks. This is a luxury watch safe complete with its own winder, electronic locks, fire-cladding, and much more.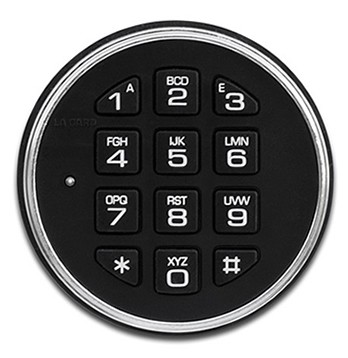 This U. L. Listed Group 2 High Security Lock offers reliable convenience at your fingertips. Made by La Gard, one of the most reputable lock makers in the industry. This industrial grade lock has proven its worth over many years of both commercial and residential service.
Biometric Fingerprint Lock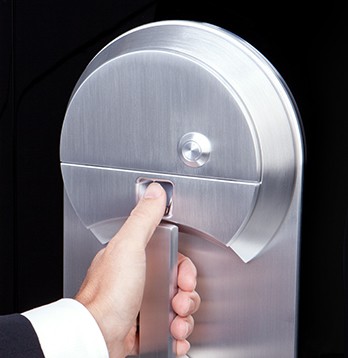 The fingerprint lock comes embedded in a highly ruggedized casing with a matching handle. The biometric safe lock housing components are custom machined from solid aerospace grade aluminum exclusively for Brown Safe. This industrial grade casing provides increased outer lock protection while the top nested ergonomic position of the biometric fingerprint reader allows for effortless access.
Orbita Automatic Watch Winders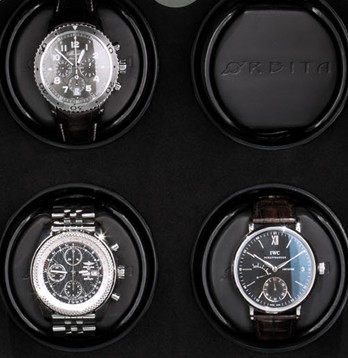 The luxury MAN SAFE features custom made watch panels housing Orbita watch winders to display timepiece collections and keep fine watches functioning flawlessly at all times.
Orbita® automatic watch winders are known for uncompromising quality and reliability. Their winding technology is recognized and acknowledged by both watch manufacturers and watch collectors all over the world.
Available in ROTORWIND WINDERS or PROGRAMMABLE WINDERS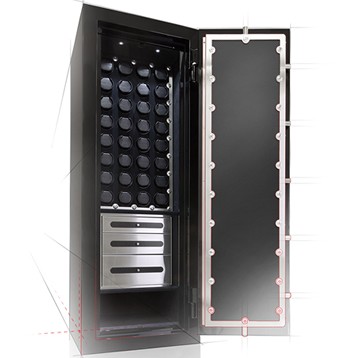 Dependable security is at the core of every safe produced by Brown Safe and the MAN SAFE draws on this rich heritage of engineering the best of the best. The base level of protection offered in the MAN SAFE exceeds that of industry standards, but some clients deserve the absolute ultimate in available security.
With the MAN SAFE Elite edition, protection and performance are taken to new heights. This upgraded luxury safe has received additional high security features to keep all your watches and belongings completely secure.
Ballistic Armor Construction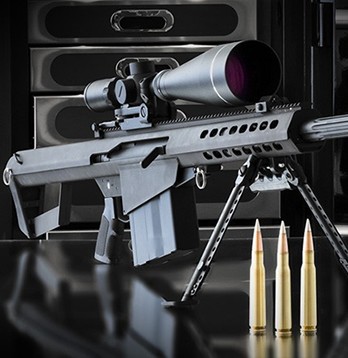 Ballistic Armor plate is by far the strongest material we've tested. It is so durable that firing multiple .50 caliber bullets directly into the MAN SAFE results in nothing more than removing the paint. Aside from the missing paint, the safe shows little to no visible indentation, a feat no other known safe is capable of achieving, and a testament to the incredible strength of these safes.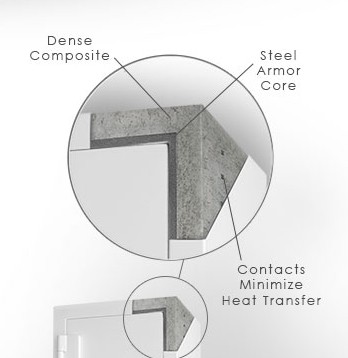 Through a complete re-examination of construction methods and materials, we have developed an extraordinarily effective means of shielding the contents within the safe from fire.
Once the safe has been built with the desired level of burglary protection, it undergoes our proprietary fire cladding process.
The walls of the MAN SAFE are encased within 2 1/2 inches of poured composite material comprised of a high pressure concrete based mixture and the door of the safe receives a 2 inch layer of composite material.