Locker cabinets
CLOTHES AND LOCKER CABINETS
Clothes cabinets can be used anywhere where lockable storage space is needed. They are suitable, for example, for industrial facilities, companies, shops, bureaus, hospitals, schools, gyms, sports halls, swim halls and health clubs.
Kaso has manufactured clothes cabinets for over 50 years.
Durable and good-looking, Kaso clothes cabinets combine ease of use with safety and stylish design.
The cabinets are available with a flat or sloping roof. Air-conditioning and double doors are available on request.
LOCKER CABINETS
Locker cabinets are suitable for shops, schools and other spaces, where personal items such as laptops, mobile phones and purchases Need to be safely stored for a while.
As an example about locker cabinets, the Kaso Laptop locker with eight lockers, features recharging for devices such as mobile phones, personal computers and cameras in individual lockers.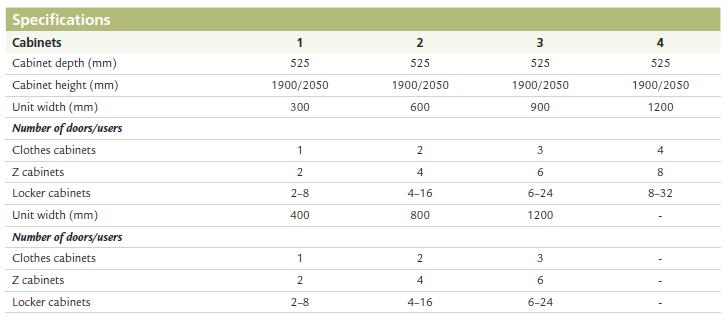 LOCKING AND ACCESSORIES
Doors in Kaso locker cabinets are hard to bend open or brake, since all doors are made of 1.5 mm thick steel. Other options for door-material are MDF and laminate.
Standard options:
• Door width, either 300mm or 400mm
• 1-4 columns and 2-8 rows of lockers (2-32 lockers / cabinet
• Flat roof (sloping roof as a special order)
• Door materials steel, MDF or laminate
• Door colour
• Inside fittings
• Locking options