Deposit safe PTK E3-330
DEPOSIT SAFE PTK E3-300
Kaso deposit safes are specially designed for use in retail outlets and other places where money should be stored all the time in a tested and certified safe. Kaso deposit safes are very easy-to-use and secure for storing daily cash deposits. Kaso deposit solution can be 100 % keyless operated only with electronic control systems and can also be equipped with Kaso cinema electronic surveillance system. With this solution the security manager can keep minimum cash at the cashier's desk and lower the risk of robberies and hold-up's 24 hours a day. No need to give keys or opening codes of the safe to the personnel.
High-Security Day Deposit Solution
• Certified according to European Standard EN 1143-2 to grade Euro D-III
• Specially designed against manipulation and also equipped with high security anti-fishing mechanism
• Floor anchoring for additional security against removal of the safe
• Limited access to content of the safe – deposit customers have no access into the safe
• Burglary classification: EN 1143-2 Grade 3
DEPOSIT SAFE PTK E3-330
High-Security Day Deposit Solution
• Certified according to European Standard EN 1143-2 to grade Euro D-III
• Specially designed against manipulation and also equipped with high security anti-fishing mechanism
• Floor anchoring for additional security against removal of the safe
• Limited access to content of the safe – deposit customers have no access into the safe
Standard features
• Supplied with Mauer keylock
• Manipulation prevention and anti-fishing mechanism
• Light weight – easy to install
• Floor anchoring
• Standard colour RAL 7035
• Maximum deposit bag size 45 (H) x 235 (W) x 155 (D)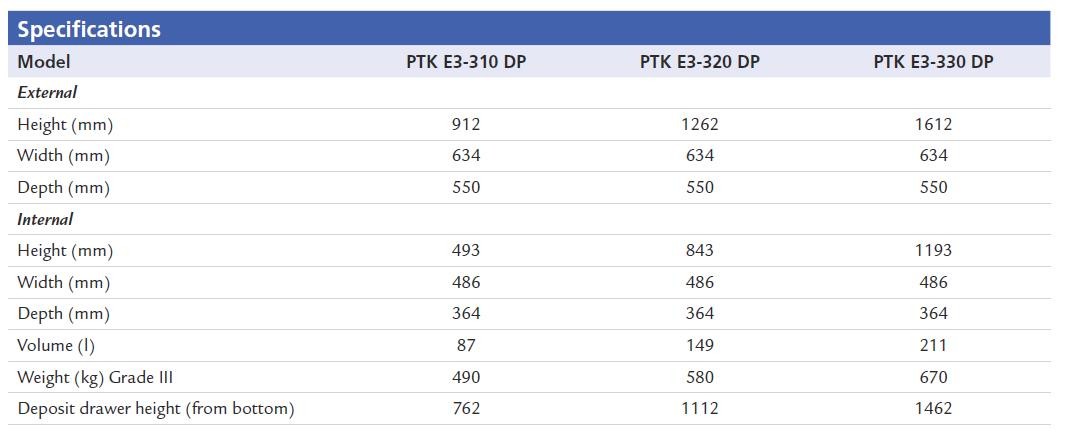 | | |
| --- | --- |
| Burglary class | EN1143-2 G3 |
| Height (mm) | 1612 |
| Width (mm) | 634 |
| Depth (mm) | 550 |
| Weight (kg) | 670 |
| Volume (l) | 211 |
LOCKING AND ACCESSORIES
• Keylock, combination lock or electronic code lock
• Option for two locks
• Lockable deposit gate
• Lockable compartments
• Shelves and other internal fittings