Safe E1-320
E-300 EUROSAFES
Kaso E-300 series safes have been created as a result of our new basic ideas on safes; practical, easy to be used, well designed to fit into an office environment, also meeting the fire and burglary protection requirements.
The E-300-series safes have a new multi-layer security wall structure and less floor space is required. The weight is only about one third of the traditional weight of safes. The wall construction (BFP-construction®) ensures excellent burglary and fire protection.
When designing the safes, dimensions of office furniture have been considered. As the size of the safe goes up, it is only the height of the safe that increases, while its width and depth remain the same (except 308 and 309). The inner measures of the safes are in compliance with the practical A4-size of maps.
• Burglary classification: EN 1143-1 Grade 1
• Fire classification: NT Fire 017 – 60 Paper
KASO E1-320 EUROSAFE
E1-320 Eurosafe is certified according to EN 1143-1 to Grade 1 against burglary and is also offering fire protection for 60 minutes for documents, NT Fire 017 – 60 Paper.
Door panel, colouring and inside fitting options further add to the versatility of the series.
Safes should be anchored to the floor to prevent removal. The lower weight of the safes means less problems with floor bearing capacity. Safes can be installed in upper floors, near the user.
As a standard the safes are equipped with unpickable keylock with two changeable keys (E4 grade with two locks) and floor anchoring. Standard colour is light grey, RAL 7035.
Wide selection of inside fittings, panel options and locking options available.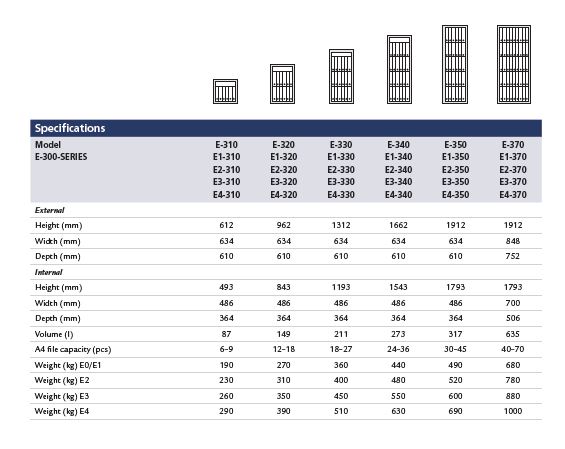 | | |
| --- | --- |
| Burglary class | EN1143-1 G1 |
| Fire class | 60 Paper |
| Height (mm) | 962 |
| Width (mm) | 634 |
| Depth (mm) | 610 |
| Weight (kg) | 270 |
| Volume (l) | 149 |
LOCKING AND ACCESSORIES
As standard Kaso E-300 Eurosafes are equipped with an EN 1300 certified high security keylock, which can be replaced by a mechanical combination lock or an electronical code lock. Option for two locks.
Options and fittings
• Combination lock or electronic code lock
• Panel options and special colours
• Adjustable plain shelves
• Pull-out multi-purpose shelves
• Pull-out worktop
• Lockable inner boxes
• Data Media Box MI-400
• Pull-out key rack
• Pull-out key compartment shelf
• Pull-out key shelf
• Pull-out suspension file frame
• Tested deposit solution
• Safety deposit lockers