Safe E2-420
KASO E-400 EUROSAFE
Kaso E-400 series safe is a new model in Kaso Eurosafe series and designed for modern and secure storage for shops and offices.
New safes have been tested and certified to Grade I and II according to Euro norm EN 1143-1 (ECB-S). The high quality manufacturing of safes is also monitored in accordance with the ISO 9001:2008 quality management system.
The construction of safes is based on a new multi-layer BFP-Construction® developed by Kaso. The construction enables manufacturing of low weight safes without compromising the security level.
• Burglary classification: EN 1143-1 Grade 2
KASO E2-420 EUROSAFE
E2-420 safes have been tested and certified to Grade II according to Euro norm EN 1143-1 (ECB-S).
The locking mechanism of E-400 series safes consists of sliding locking bolts on three sides and a locking frame structure on the back panel of the door. The strong and durable locking mechanism gives increased protection against unauthorized access. The safes are supplied with a floor anchoring hole and bolt to prevent easy removal of the safe.
As a standard, the safes are equipped with unpickable keylocks. Electronic codelock and combination lock can be selected as an alternative. Option for two locks is also available. Optional 150 mm and 350 mm lockable compartments. Safes are painted in a light grey RAL 7035 colour.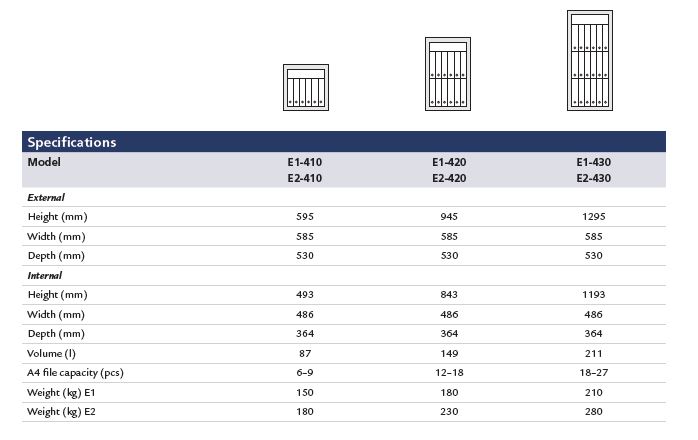 | | |
| --- | --- |
| Burglary class | EN1143-1 G2 |
| Fire class | – |
| Height (mm) | 945 |
| Width (mm) | 585 |
| Depth (mm) | 530 |
| Weight (kg) | 230 |
| Volume (l) | 149 |
LOCKING OPTIONS AND FITTINGS
As standard the E-400 safes are equipped with a burglary-protection keylock, which can be replaced by a mechanical combination lock or an electronical code lock. E-400 series safes can also be equipped with two locks.
• Keylock, electronic codelock or combination lock
• Option for two locks
• Optional lockable compartment alternatives: external height 150 mm or 350 mm (suitable for A4 file)
• Right- or left-handed opening