Safe PTK E4-370
PTK E-300 EUROSAFES
PTK E-300 Eurosafes are designed specially for offices for secure fire and burglary proof storage of documents and other valuables.
Because of the stylish design as well as measures and light weight, the safes can be easily placed among other office equipment in modern office environments. The smallest of the series can even be placed under a desk.
Sliding bolts on all four sides of the door protect the contents against unauthorized access and keep the door tightly closed against fire. All safes in the series can be floor-anchored and equipped with a variety of locking options and inside fittings.
Kaso PTK -safes come in eight different sizes and have been designed to store A4 sized documents.
• Burglary classification: EN 1143-1 Grade 4
• Fire classification: LFS 30 P – EN 15659
KASO PTK E4-370 EUROSAFE
PTK E4-370 Eurosafe is certified according to EN 1143-1 to Grade 4 against burglary.
The largest safe in the PTK E-300-series, PTK E4-370, is both deeper and wider than the other safes of the series.
Movable locking bolts on all four sides keep the door firmly closed in case of fire. The strong bolting mechanism stands mechanical pressure well and gives good protection against vandalism. To prevent removal, the safes are equipped with a floor anchoring bolt.
As a standard the safes are equipped with unpickable keylock with two changeable keys (E4 grade with two locks) and floor anchoring. Standard colour is light grey, RAL 7035.
All safes can be equipped with a variety of locking options and inside fittings according to the customer requirements.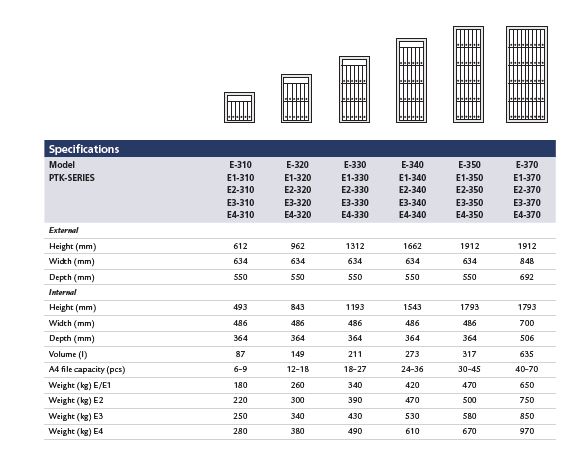 | | |
| --- | --- |
| Burglary class | EN1143-1 G4 |
| Fire class | 30 Paper |
| Height (mm) | 1912 |
| Width (mm) | 848 |
| Depth (mm) | 692 |
| Weight (kg) | 970 |
| Volume (l) | 635 |
LOCKING OPTIONS AND FITTINGS
As standard the PTK E-300 office safes are equipped with a burglary-protection keylock, which can be replaced by a mechanical combination lock or an electronical code lock. PTK E-300 series safes can also be equipped with two locks.
• Combination lock or electronic code lock
• Option for two locks
• Adjustable plain shelf
• Pull-out multi-purpose shelf
• Pull-out suspension file frame
• Pull-out worktop
• Lockable inner box
• Lockable Data Media Box MI-400
• Pull-out key rack
• Pull-out key compartment shelf
• Pull-out key shelf
• Full RAL range available for colouring
• Right or left handed opening
• Safety deposit lockers